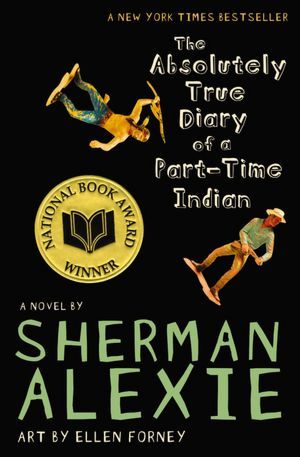 Junior is a Native American high school student living on the Spokane Indian Reservation with his parents and his older sister. Born with some medical issues, Junior is often picked on in school and around the rez, but his best friend is always there to defend him. Then Junior makes the difficult decision to leave the rez and go to school at an all-white high school in order to get a better education.
The Absolutely True Diary of a Part-Time Indian
by Sherman Alexie tells the story of how Junior deals with the ramifications of his decision to leave the "rez," and how he deals with lots of typical high school stuff as well. This is a novel but Alexie says it was based on many of his own experiences. It's a look into the life of a young kid growing up on a reservation where the future is limited, where education isn't a focus, where alcohol has a profound negative effect on just about everyone, and where death is much too common.
But it's not a depressing story. It's written from the perspective of Junior, who is a freshman in high school, and the tone is fairly lighthearted despite the tragedies strewn throughout it. It's not really written as a diary the way some middle grade novels are, but there are drawings incorporated at times since Junior likes to create cartoons.
The language is crude and full of profanities, and he and his best friend call each other some pretty bad names. There's talk of masturbation and other topics of interest to most high school boys, but considered objectionable by many parents. This is why
The Absolutely True Diary of a Part-Time Indian
has been near the top of the list of
most challenged books
many times.
I think it's a great young adult book that would appeal to most high school boys. It gets at the issues and concerns that boys that age are dealing with, but it also goes beyond that, giving a glimpse into a culture that many kids haven't experienced. I will definitely recommend it to my son when he's older. And I'd recommend it to adults who enjoy YA as well.
My Rating: 4/5
This review was written on a copy of The Absolutely True Diary of a Part-Time Indian that I purchased.