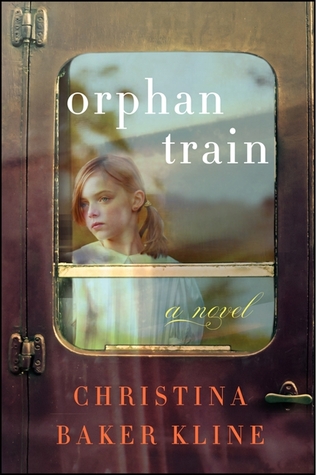 On the brink of being kicked out of another foster home, 17-year-old Molly Ayer starts doing community service in the home of 91-year-old Vivian Daly. Her assignment is to help Vivian clean out her attic, but soon it's apparent that Vivian merely wants to look through her old things and remember her past. This past started with a young girl who was uprooted from Ireland to live in New York City with her family, and then soon after, loaded onto a train with other orphans bound for new homes in the Midwest.
Orphan Train
by Christina Baker Kline alternates between Molly's story in the present, and her interactions with elderly Vivian, and Vivian's story in the past, which shows how she came to be a widow living in Maine at the end of her life. Both stories are compelling and heart-wrenching, and the switching between them is easy to follow. There are many similarities between their experiences as orphans and as minorities of their time ~ Vivian was an Irish girl coming to America in the 1920s, and Molly is a Penobscot Indian who feels like an outsider as well. Neither feels like they have a place where they belong.
I really loved
Orphan Train
. I had never heard of these trains that took orphaned children from the cities and left them with whoever would take them in the Midwest. While it's nice to think of the children who fulfilled a couple's desire for a child, it's quite horrifying to think of the children who were taken in by couples who were merely looking for a farm hand or seamstress or whatever they needed for their particular business.
A beautiful combination of historical and contemporary fiction, I highly recommend
Orphan Train
.
My Rating: 5/5
Visit the author's website
Orphan Train reading group guide
This review was written based on a copy of Orphan Train that I borrowed from my mom. :-)