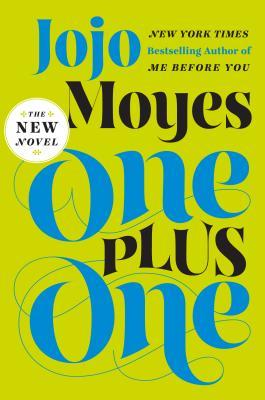 Jess is worn out. Overwhelmed. She is barely holding it together, actually. Her husband is gone, her stepson is being bullied, and her exceptionally bright daughter may miss out on an amazing opportunity because Jess is broke. Ed, on the other hand, is wealthy. At least for now. He's being investigated for insider trading, so there's a good chance that he's going to lose everything and possibly end up in jail.
One Plus One
by Jojo Moyes is the story of how these two very different people end up on a multi-day road trip with Jess's two kids and her huge dog. Each chapter is told from a different character's perspective, so we get to spend time in the minds of Jess, Ed, Nicky (the stepson) and Tanzie (the daughter). This actually works very well and doesn't get complicated. Each has their own voice and it helps to feel more connected to the characters by hearing what they are thinking.
This is my first Moyes book, but I doubt it will be my last.
One Plus One
is a very character-driven story about four people with individual struggles who come together for a short time and end up in a better place in the end. Themes of poverty, abandonment, living up to a parent's expectations, the difficulty of supporting a gifted child and bullying are all interwoven into a more personal story of family ~ both for Jess and her kids and for Ed.
If you enjoy contemporary fiction about family and the everyday struggles that many face, I highly recommend
One Plus One
.
My rating: 5/5
Visit the author's website
This review was written based on a copy of One Plus One that I received from the publisher through NetGalley in exchange for an honest review. This post includes Amazon affiliate links.