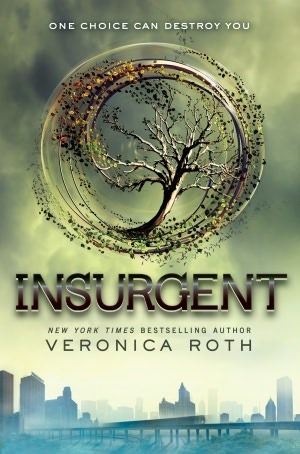 Insurgent
by Veronica Roth is the second book in the
Divergent
series. I will start by saying that I enjoyed this book, but not as much as the first in the series. It was a nice continuation of the story, and I liked getting to know some of the characters more. But I found the focus of the story in
Divergent
much more interesting. And now, if you haven't read
Divergent
, you should stop reading my review!
Insurgent
starts with Tris, Tobias and other characters on the train heading away from the conflict that took place in
Divergent
. The Dauntless are now split between loyal Dauntless and Traitors. War is brewing, and each faction, including Amity and Candor must choose sides. Even the factionless are involved.
Tris is dealing with more than war in this book, though. She is also dealing with her extreme regret over having to shoot Will. She can't even hold a gun now, which isn't a very good situation to be in during a war! Her relationship with Tobias hits some major snags too, especially since Tris keeps putting herself in harm's way.
If you've read
Divergent
, you should definitely read Insurgent too. I'm planning on reading the final book in the series too, even though I've heard some negative reviews of it. This one was good, but didn't pull me in as much as the first in the series. But I'm glad to have continued the story, and look forward to seeing how it all ends.
My Rating: 3.5/5
Read my review of Divergent
Visit the Insurgent book page
This review was written based on a copy of Insurgent that I purchased.